WE are the Van Dyk Family!
From assisted living to home care to Alzheimer's day care. From hospitality to nursing to dining to housekeeping to activities to scheduling to community relations to finance. From our family owners to our family-oriented staff. We are all dedicated to exceeding the expectations of the families we serve, as well as our entire staff.
Simply put, we care for each other. We are committed to creating a work environment that fosters innovation, pride, growth, and unity. Our staff shines because we have energetic personalities and a genuine love of the elderly. We all embrace the Van Dyk motto of Family Caring For Family. It sets us apart … it's not just that we say it … we live by it. We challenge each other daily with a simple question … "How can we continue to treat families and staff as members of our own family?" It guides the decisions we make.
Van Dyk Health Care is continually recognized as the gold standard among health care employers. We received the #2 national ranking by Fortune for the Best Workplace in Aging Services, the Top Workplace award by North Jersey Media Group, the Women's Choice Award, and recognition from U.S. News & World Report as one of America's top care providers.
We are always looking to bring smart, talented people from diverse backgrounds and experiences to join the Van Dyk family. Will you be next?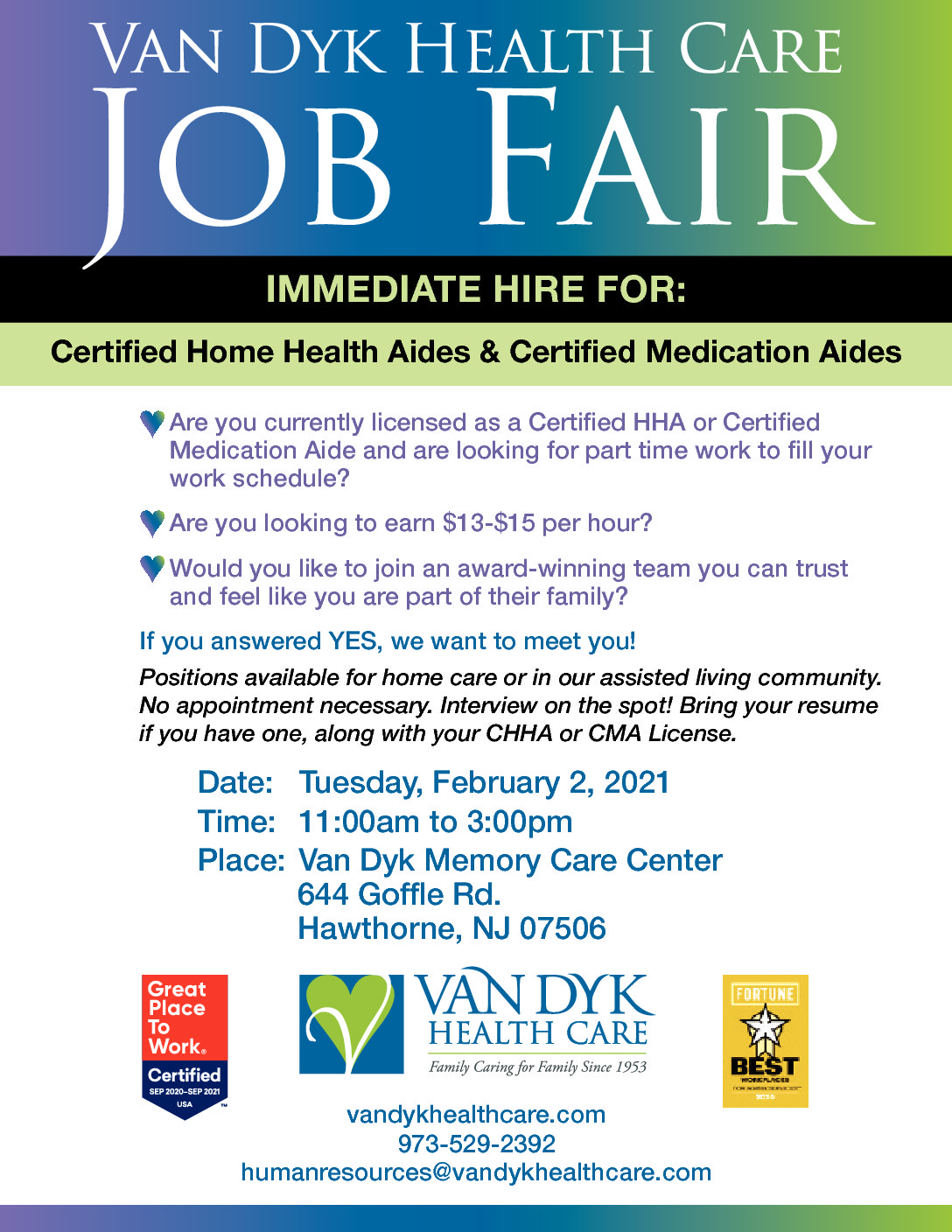 Our Company Culture at Van Dyk
How "We Care" For Our Staff
Comprehensive health benefits, a 401(k) plan and life insurance
Tuition reimbursement for full-time and part-time employees
Paid meal and break times with free meal provided
Free uniform
Employees are recognized for their years of service with a NYC cruise for long term employees
Birthday parties, employee appreciation days, and free turkey on Thanksgiving
Holiday party with drawings and a gifts for everyone
Customer Appreciation Employee Bonus
Staff satisfaction surveys to get feedback on the work environment and implement positive changes to the workplace.
Current Openings at Van Dyk Health Care
2020-2021 Great Place to Work® Certification
Great Place to Work Institute has honored Van Dyk Health Care with certification as a Great Place to Work®. Great Place to Work, an independent research and consulting firm, evaluated more than 60 elements of team members' experience on the job. These included employee pride in the organization's community impact, belief that their work makes a difference, and feeling their work has special meaning. Rankings are based on employees' experiences, no matter who they are or what they do.
Learn more about how we care for our staff. Call us today at 1-800-VAN-DYKS.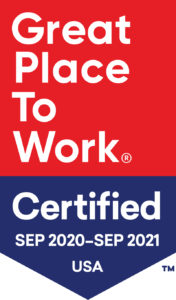 Van Dyk Honored as 'Top Workplace' Award Winner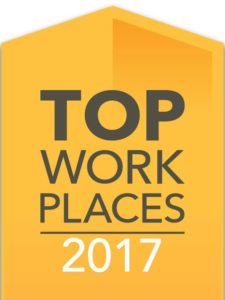 ​Van Dyk Health Care was honored as a Top Workplace by North Jersey Media Group. Our company finished in 2nd place overall and received a special award for "Meaningfulness." The Top Workplace award recognizes the "healthiest organizations in North Jersey," based on anonymous employee surveys. The award measures company performance in two main categories: "Me" Factors (job satisfaction, pay and benefits, extra perks, staff celebrations) and "We" Factors (our values, our mission and our culture).
Learn more about how we care for our staff. Call us today at 1-800-VAN-DYKS.
Meet Our Human Resources Team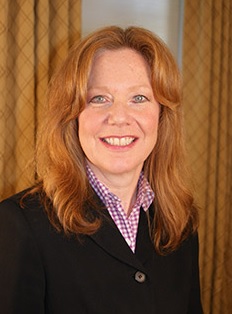 Nancy Soto
Vice President, Human Resources
Van Dyk Health Care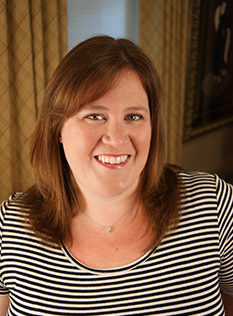 Michelle Roberto
Human Resources Director
Van Dyk Park Place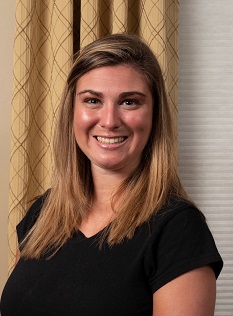 Danielle Donofrio
Recruiter
At Home with Van Dyk
"I desired to invest my abilities in a company that possessed a collective sense of moral obligation to both their clients and their staff. At Van Dyk Health Care I know that frontline staff, management, and leadership all work towards a common goal of prioritizing hospitality within the health care industry. The Van Dyk family has always believed that caring for their employees is the best way to ensure their employees to care for their patients; leadership by example."
"As an employee of Van Dyk, I feel that I am part of a family.  Everyone is very supportive & caring of each other. I love the flexibility of my hours, the interaction that I have with the clients. The environment is very friendly and allows me to work at my own pace.  Both the executive director, and director of nurses are willing to listen to any concerns, and help resolving them. They are willing to listen to suggestions on how to improve our services and implement those changes."
"Since August 28, 1981 – the day I was hired – I never left Van Dyk. Van Dyk is my family, I pretty much grew up in the Montclair facility. Most of my milestone memories all come from here from the time I got married, had kids, turned 21, 50 and almost 60 I might still be here. I've seen a younger batch of C.N.A's coming in and I started training them and showing them the Van Dyk way. I am happy and blessed that I am a part of the Van Dyk Family."
"It's so enlightening to interact with the residents since they have so many wonderful stories to tell. We sometimes forget that the heart of our facilities are the men and women that have lived such colorful lives. I don't just answer phones and direct calls, but I aid in the care of the residents and help solve issues directly with family members and nursing staff. It's very rewarding to work in a place like Van Dyk Health Care because of the overall satisfaction of being an employee."
Contact Us
Phone: 1-800-VAN-DYKS
Van Dyk Health Care
Human Resources Dept.
Now is the perfect time to start planning a career at Van Dyk Health Care.